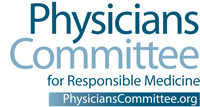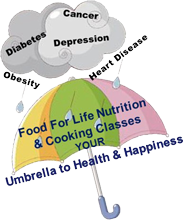 Food for Life Nutrition & Cooking Classes:
A vegan diet of whole grains, beans, vegetables, and fruits can help prevent diabetes, cardiovascular disease, cancer and other chronic diseases. According to the Academy of Nutrition and Dietetics, "Appropriately planned vegetarian diets, including total vegetarian or vegan diets, are healthful, nutritionally adequate, and may provide health benefits in the prevent and treatment of certain diseases."
This curriculum is based on the Physicians Committee for Responsible Medicine's successful 21-Day Vegan Kickstart program. Depending on one's perspective, the Kickstart is about losing weight, maintaining a healthy weight, or simply embracing an overall healthful diet. Much of the basis of the Kickstart is about making a qualitative shift in the way we eat as opposed to a quantitative shift. For some people, it's the first time the idea of not restricting amounts of foods but rather choosing the right foods has been the guiding principle for losing weight and staying healthy. The revelation is bolstered with clinical benefits such as lower cholesterol, better diabetes control, and lower blood pressure, as well as improvements in energy and mood.

Class 1: Power of Your Plate
Class 2: Let's Go!
Class 3: Getting  in Gear
Class 4: Breaking the Food Seduction
Class 5: Keys for Natural Appetite Control
Class 6: Digestive Health
Class 7: Healthy Blood Pressure

Class 1: How Foods Fight Diabetes
Class 2: The Power of Your Plate and Grocery Cart
Class 3: Understanding Type 2 Diabetes
Class 4: Designing a Diet for Maximum
Class 5: Using the Glycemic Index
Class 6: Keeping a Healthy Heart
Class 7: Diabetes Care form Head to Toe
Class 8: Making It Work For You

Class 1: Introduction to How foods Fight Cancer
Class 2: Fueling Up On Low-Fat, High-Fiber Foods
Class 3: Favoring Fiber
Class 4: Discovering Dairy Alternatives
Class 5: Replacing Meat
Class 6: Cancer-Fighting Compounds and Immune-Boosting Foods
Class 7: Maintaining a Healthy Weight
Bonus Class A: Foods and Breast Cancer Survival
Bonus Class B: Foods and Prostate Cancer Survival

Class 1: Bang Up Breakfasts
Class 2: In-betweener Meals and Sweeter Deals
Class 3: Rainbow Lunches
Class 4: Digging These Dinners!
Each two-hour class includes a discussion, review of handouts, cooking demonstration and tasting all the food. The FFL Kids program curriculum is designed for a target audience of children 9-12 years old, grades 4th through 6th

Improve the health and productivity of staff through one-hour lunch and learn nutrition and cooking classes and help with incorporating affordable healthful choices in the company's food services.
Have me come present a seminar for your employees or plan a retreat to the Nutritious Way Studio and improve your Employee Wellness today!

Class 1: Kickstart Your Health: Weight Control and Diabetes Prevention
Class 2: Let's Go! Begin Kickstart, Label Reading
Class 3: Getting in Gear – reinforcing vegan diet, low-fat, tasting nondairy milks
Class 4: Weight Loss
Each one-hour class features a DVD, discussion, and activities focused on adopting a healthful, plant-based diet. Fun classes have been developed!
The Food for Life program has been offered in hundreds of venues around the world including: GEICO, Pearson, Inc., Whole Foods Market, Whirlpool, Kaiser Permanente, Sony Pictures, HBO Studios, Patrick Dempsey Cancer Center, American Cancer Society, YMCA and several federal agencies including the United States Postal Service and the Department of Transportation and Justice.
PCRM is a nonprofit organization of doctors and laypersons working together for compassionate and effective medical practice, research and health promotion. It promotes preventive medicine through innovative programs and encourages higher standards for ethics and effectiveness in research.