8 Steps to Success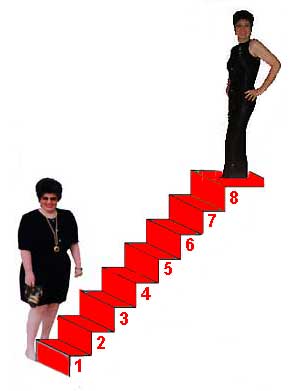 Yes, You Can Lose Weight Naturally and Take Control of YOUR Health. Most of the health problems today are due to DIET and lifestyle. Learn why & how Barbara became Vegan (Whole Food Plant Based) and went from:
Obese to Thin
SAD to Plant Based Lifestyle (WFPB)
Taking Tons of Medications to NO MEDS
Depressed to a Passion for Living!
Unhealthy to Healthy
"Losing weight is NOT about the body – it's about the mind. It's about changing the way you THINK about food. It's also about changing the way you think about LIFE" – Mike Anderson, THE RAVE DIET
Eight Steps to Gaining Health Strategy
Whether you are a seasoned Vegan or have a friend or family member that needs just the right motivation to take control of their health …THIS is the ANSWER. Yes, YOU can do it!
Be Thankful for the Present
Be in the Moment
Let go of the past
Practice affirmative self-talk
Get involved
Exercise
Know what you want
Be Specific: – Focus – Passion – Commitment – Desire
At least know what…you don't want
Outcome you want – outcome you don't want
Best liked activity – what are you best at?
Daily asked yourself: show me what's best for me today
Write it Down
Helps with focus & clarity
Be specific use Treasure Mapping
Get away from it all
Check-off list
Journal your journey
Know that you Deserve it
Get away by yourself and review self-thinking
Evaluation mirror – listen within
Ask your friends – ask your employer
Say "NO"— for yourself – be proud – love yourself
You'll see it when you believe it
Make a Commitment & Ask for it
To Yourself
Expect it
Ask for help if you need it
Integrity is silence
Networking – business cards
Be Willing to Risk & Be Flexible
No "White Knight" or "Sleeping Beauty"
If your in a rut…
Move "Life is either a daring adventure or nothing
Look for the positive – be honest – be open
Be you + 25% – 25% +- 50%
Let Go … Trust & Celebrate
What goes around comes around
Do all you can the let go and trust
Expect it
You are magnetic – breathe
Don't worry – be happy – go out and play
Persistence, Persistence, Persistence
Practice the 8 Steps
Success is a state of mind
Think of yourself as successful
Its always too soon to quit!
Celebrate