Give Yourself a Full-body Energetic Healing
Dragon and Tiger Qigong is especially renowned for simultaneously accomplishing 3 major changes in the body:
Releases stagnant chi that cannot move freely. Stagnant chi can be located anywhere there is a physical, emotional or psychic blockage of energy.
Increases the speed, strength and evenness of the circulation of chi, blood and other fluids. This balances the body's energy.
Quickly raises the energy levels of the body to boost your natural healing capacities
Benefits of Low-impact Qigong Exercise
Dragon and Tiger Qiqong's gentle movements are especially beneficial for the joints, increasing range of movement – especially in the upper body. Even when done imperfectly, by people with limited energy, limited range of motion or who are sick / wheelchair bound, this Qigong set is immensely beneficial. This set can improve physical balance, coordination & flexibility as well as stretch the legs, waist & upper body!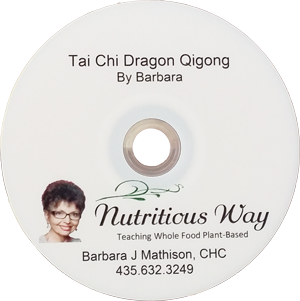 Exercise at any time by purchasing your Tai Chi Dragon Qigong DVD by Barbara today for only $20.00 Includes 50 Minutes of Exercises!